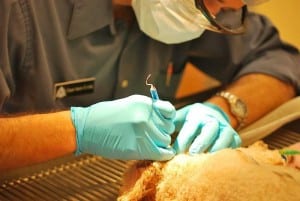 Dental disease is the most common disease in veterinary medicine. The prevention of dental disease is one of the mainstays of focus at Northwest Animal Hospital. In all breeds of dogs and cats the most common cause of heart disease, kidney disease and liver disease is dental disease. Keeping yours pet's teeth clean and healthy is essential for a long happy and healthy life for them.  We have a full range of preventative services as well as treatments for disease or infected teeth.
We feel dental care and prophylaxis are so important at Northwest Animal Hospital that we will examine your pets teeth at no charge. Call today and set up a dental exam with our doctor at no charge to you.
Northwest Animal Hospital is proud to provide the following dental services:
Routine teeth cleaning, polishing, fluoride treatments and dental sealant application. Every patient has a dental sealant applied to their teeth to help prevent plaque and tartar buildup.
Digital dental x-rays and interpretation. Dental x-rays are essential in dental health allowing us to identify diseased teeth and possible infection as well as determine the best treatment plan. X-rays are taken before and after every tooth extraction, ensuring that the entire roots is removed.
Tooth extraction and periodontal surgical treatments.
Home care and dental hygiene supplies.