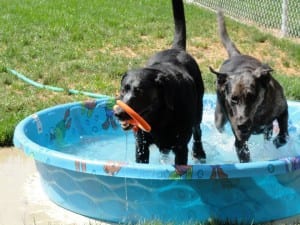 Northwest Animal Hospital provides a comfortable and safe environment with personalized care for your pet while you are away. We have spacious luxury dog runs with heated flooring during the winter, offering plenty of space for any size pet. Our large fully-fenced outdoor areas allow dogs to run off-leash, play with toys, or even brush up on their agility skills with our agility equipment. After a 4 night stay, dogs are treated to a complimentary bath before going home. For those who want to see how their pet is doing while you are away, we offer a webcam service allowing you to see them from any Internet connection. All canine boarders must be current on all vaccines. This is to not only protect your pet, but all of the other pets in the hospital. If you find that your pet is not current on vaccines, we would be happy to administer the vaccines during their stay.
Group play time is a service that is offered during boarding and doggie day care. Please speak to our receptionist or kennel attendant for details.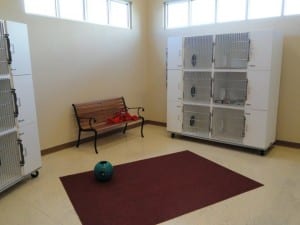 Feline boarding guests stay in a peaceful, quiet cat sanctuary with spacious condos that are separated from the canine boarding area. These large condos offer double the space as most kennels, and cubbies for privacy. All of our feline guests must also be current on all vaccines in order to protect your feline friend, and all the other animals in the hospital. If you find that your pet is not current on their vaccines, we would be happy to administer them during their stay with us.
Feathered friends and other exotic animals have their own boarding room with a view of the treatment area of the hospital. Avians boarding with us need to have a negative test result for Chlamydia before boarding with us.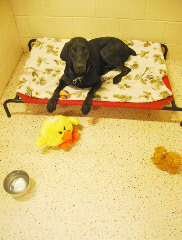 Day boarding is available for those pets who are anxious at home alone, need medications during the day, need to keep quiet after a surgical procedure, need frequent bathroom breaks, need a place to stay during a move, or any other reason they should have daytime company. This service is available for full or partial days depending on your needs. Each pet gets their own large run and are taken outside for playtime, either by themselves or with dogs of the same family. Day boarders also have the opportunity to join in group playtime with our other boarders, after a socialization test is performed.
If your pet is on a special diet, it is a good idea to bring their own food for their stay with us. Dogs and cats that are not on a specific diet are fed a sensitive stomach diet to minimize stomach upset.
When bringing your pet to stay with us, be sure to bring any medications your pet may need during their stay. The medications will be administered by one of our trained veterinary technicians at the appropriate times.